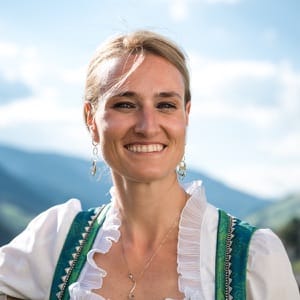 Raffaella recommends
The magical snowy world of Fodara Vedla
A great suggestion for those who do not ski or who want to enjoy adventures in the Unesco World Heritage Site of Fanes-Senes-Braies in winter
When I think of winter I imagine expanses of pure white snow, the silence of the towns, the unmistakable sound of snow crunching beneath boots, the sparkling rain of crystals caused by the snow falling from trees. The natural park of Fanes-Senes-Braies and the area of Fodara Vedla in particular embodies all of these magical sensations, amazing me every time I visit.
Fodara Vedla can be reached departing from Rifugio Pederü in particular, but Rifugio Ra Stüa also represents a valid alternative. From Pederü you will see the curves of a military road opened during the Great War, which allows us to reach altitude quickly. After little more than an hour, the characteristic Alpine cottages of Fodara Vedla will appear, which - together with an elegant wooden chapel and the eponymous refuge - give a poetic aspect to the landscape.
We strongly recommend a pause at the Fodara Vedla refuge - if possible, to enjoy lunch at high altitude. You will be welcomed by an intimate and characteristic ambience with excellent cuisine typical of South Tyrol. The road that leads there is well established, allowing you to arrive by foot and descend with the sledge. For a longer descent, you can continue for another hour until you reach Rifugio Senes.
The true essence of this special place can be glimpsed by adventuring across the expanses of snow surrounding it with snow shoes or Alpine skis. Getting off the beaten track and immersing yourself in the true essence of the winter mountain is a true tonic for the soul. Among the most beautiful destinations for a snow shoe excursion are Munt de Senes and Sas dla Para (C. Lavinores - also perfect for an Alpine skiing excursion), which overlooks the Fodara Vedla refuge and can be reached in approx. 2 hours, and Munt de Senes. More expert Alpine skiers can enjoy a real challenge by visiting Le Seneser, Muntejela de Senes and the Picio Sas dla Porta.